Four foreign companies have registered trademark protection for Vietnam's ST25 rice in the U.S., which may choke off Vietnamese food exporters tapping the market later,
according to Vu Ba Phu, director of the Trade Promotion Department under the Ministry of Industry and Trade.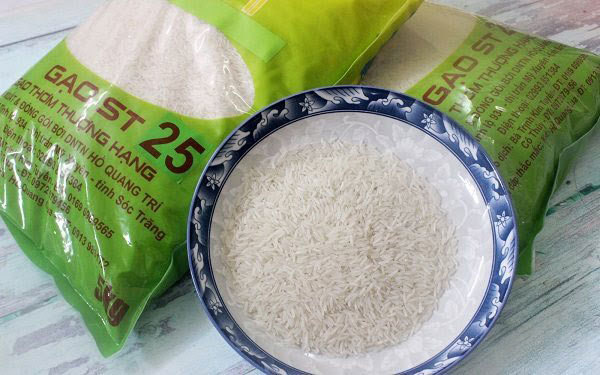 Vietnam's ST25 rice once recognized as the world's best rice.
Pham Minh Thien, general director of the Dong Thap-based Co May Co. Ltd., said besides ST24 and ST25 rice, he has seen Vietnamese rice with Vietnamese names such as "Ba con nai" and "Ba mien" labeled as "Made in Thailand" in the U.S. market.
Speaking to The Saigon Times, a leader of the Vietnam Food Association (VFA) said Vietnamese enterprises have been tardy in registering trademark protection for their products in foreign markets.
This is not the first time this is happening. Foreign companies have also registered trademark protection for other Vietnamese products in foreign markets such as Phu Quoc fish sauce and Buon Ma Thuot coffee.
"Enterprises from any country are not banned from registering trademark protection for the products of other countries if the products have not been registered for trademark protection in the U.S.," the VFA leader said.
Vu Ba Phu said the relevant agencies can help businesses register trademark protection for their businesses in foreign markets but cannot help them reclaim their brands that have been registered for trademark protection by foreign companies.
Getting dragged into legal proceedings related to trademark protection also costs a lot of money and time. Therefore, Vietnamese businesses should proactively protect their brands.
"A Hanoi-based cushion and chair manufacturer has registered for the trademark protection for its products in 60 countries around the world right after the products were launched, even before seeking distributors. This is what Vietnamese businesses should do to protect their brands and products in foreign markets," Phu suggested.
The ST25 rice variety was crossbred in the Mekong Delta province of Soc Trang by a three-member team of two agriculture engineers Ho Quang Cua and Nguyen Thi Thu Huong, and Dr. Tran Tan Phuong.
It was crowned the world's best rice at the World's Best Rice competition on November 12, 2019, the first time that Vietnam won the highest award at the contest.
The competition was hosted by The Rice Trader, a publication providing in-depth analysis of the global rice industry.
The best rice was reportedly selected by a group of international chefs, who examined the appearance, fragrance and taste of the cooked rice.
SGT
Foreign firms register trademark protection for Vietnamese rice in U.S. have 482 words, post on vietnamnet.vn at April 22, 2021. This is cached page on Movie News. If you want remove this page, please contact us.