Anti-apartheid veteran Denis Goldberg has died at his home in South Africa at the age of 87, his foundation said on Thursday.
Goldberg, a prominent member of the now-ruling African National Congress, was the only white person to be sentenced to life imprisonment for resisting white rule in South Africa in the 1964 Rivonia trials alongside Nelson Mandela and other freedom fighters.
He died late on Wednesday after having battled lung cancer for over two years.
"His commitment to ethical leadership was unflinching and even during his advanced age he formed part of the movement of veterans of the struggle calling for reassertion of moral center of society," President Cyril Ramaphosa said in a statement on Thursday.
The ANC also paid tribute to Goldberg, saying "his was a life well-lived in the struggle for freedom in SA. We will miss him."
A life of activism
Goldberg became politically active at university, where he studied civil engineering, joining a left-wing off-campus student organization that was open to both black and white youth.
In 1957, he became a member of South Africa's banned Communist Party.
Goldberg was first arrested in 1960 and held for four months without trial for supporting strikers in the aftermath of the Sharpeville massacre, which had seen police fire on thousands of anti-apartheid protesters in the township of Sharpeville.
Goldberg then became involved in the armed struggle by the African National Congress (ANC) against the apartheid regime in 1961, when he was recruited into Umnkonto we Sizwe, the secret armed wing of the ANC.
There his engineering skills were useful in devising weapons and explosive materials.
Goldberg recalled his recruitment in a DW interview conducted in January 2020 at his home in Hout Bay, a suburb of Cape Town.
"Nelson Mandela said he's setting up an illegal army. [He said], Denis, you've got the technical training. You know how to build bridges. Can you blow them up. Will you join? And I said, yes of course."
'It was worth it'
Goldberg was arrested, along with other freedom fighters including Raymond Mhlaba, Govan Mbeki, and Walter Sisulu, in a police raid at an ANC hideout on a small farm in Rivonia.
During the subsequent Rivonia trials, Goldberg was found guilty on charges of treason and sabotage and sentenced to four lifetimes in prison.
Goldberg described being white and involved with the armed struggle against apartheid. "Being black and involved meant you had the support of many people and it meant you got to be part of a community. Being white and involved meant being isolated."
Unlike Nelson Mandela and the others, who were jailed on Robben Island, Goldberg was sent to whites-only jail in the capital, Pretoria, where anti-apartheid activists were pariahs.
Goldberg spent 22 years imprisoned there, the first few years alone in a cell. His wife Esme Bodenstein, who had fled South Africa for London along with the couple's two children, was only allowed to visit Goldberg twice in prison.
"There are times when I wake up in the middle of the night wondering where I am," Denis Goldberg told DW in January. "Am I in prison, or am I thinking about prison? Why am I anxious? You know, 22 years are a big chunk of a life.
But it was worth it."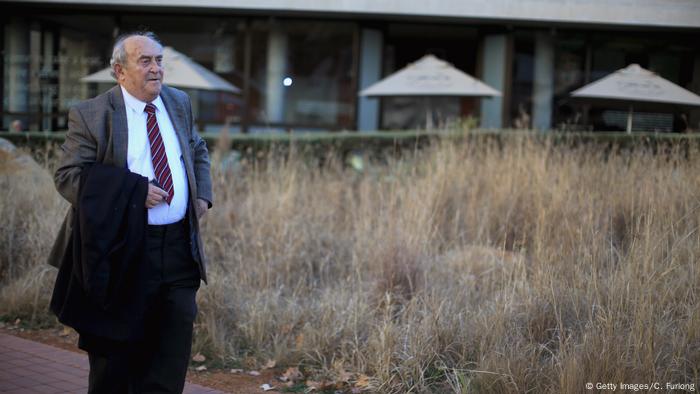 Denis Goldberg talks to the media at Liliesleaf Farm; the apartheid-era hideout for Nelson Mandela and freedom fighters in Johannesburg
Dedicated to the ANC
When he was unexpectedly released in 1985, aged 52, Goldberg followed his wife to London, where he resumed his work for the ANC in its London office until to 1994 when apartheid ended.
Although the regime he had fought against was toppled, Goldberg's wife refused to go back to South Africa, and he remained with Esme in London until she died of a stroke in 2000.
In 2002, Goldberg married Edelgard Nkobi, a German journalist and returned to the country of his birth.
Mandela's successor, Thabo Mbeki, appointed him as a consultant in the relatively insignificant Department of Water Affairs and Forestry.
Speaking to DW back in 2013 , Goldberg said he didn't see this as a setback.
"Politics is really a very difficult art. That's why I am not there. My job was to help to bring a political change. It wasn't for my personal gain. May be I am privileged."
Critic of corruption
In his later years, Goldberg became an outspoken critic of the corruption and cronyism flourishing South African under the ANC, especially during the rule of former President Jacob Zuma.
It disturbed him, Goldberg said, to see former comrades enrich themselves, betraying the ideals for which he risked his life.
Nevertheless, he believed South Africa's revolution was still in its infancy.
"Trying to overcome hundreds of years of suffering and discrimination will take generations," he said in a 2017 interview with DW .
"We've had just over one generation since liberation and it's going to take another 20, 40 or even 50 years for us to make a real breakthrough."
In 2009, Goldberg was awarded the Albert Luthuli medal for his fight against apartheid and in 2011 the German Federal Cross of Merit first class for his contribution to international understanding.
In his recent interview with DW, Goldberg warned that South Africa – and the world – must not forget their past and let racism flourish.
"We do have to say, we will take responsibility for putting an end to it as far as we can. And I see day by day, people around the world saying enough of this nonsense, let's move on.
Let's do things together and I like that."
Every evening at 1830 UTC, DW's editors send out a selection of the day's hard news and quality feature journalism. Sign up to receive it directly here.
South Africa: Anti-apartheid activist Denis Goldberg dies at 87 have 1125 words, post on www.dw.com at January 30, 2020. This is cached page on Movie News. If you want remove this page, please contact us.