Vietnamese poet nominated for prestigious Pen Award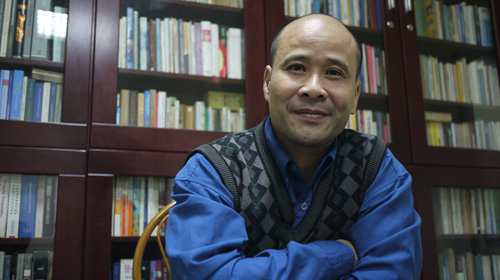 The three-part collection has over 40 bilingually translated poems. Part I comprises works published in 1997, featuring the war, the childhood and the youth of the author. With pieces released in 2001, part II tells a man's perspective about the roots. Part III includes his latest pieces, describing humankind's destiny.
Ngo Tu Lap was born in 1992. He is a poet, translator, and a critic. He graduated from the Maritime University in Russia and now works at the International Department of Hanoi National University.
Black Stars collection written by Lap is translated into English by USA's Martha Collins and published by American publisher Milkweed in October 2013.
PEN International was founded in 1921. Currently, it has over 100 member centres around the world.
VN art on display in London
An exhibition of Vietnamese paintings belonging to US collector Raquelle Azran was displayed at the Affordable Art Fair in London.
When Azran arrived in Viet Nam for the first time in 1991, she quickly fell in love with the country's contemporary art and began building her collection. Since then, she has gathered hundreds of paintings by many famous Vietnamese artists, including Nguyen Tu Nghiem, Phung Pham, Phan Cam Thuong, Vu Dinh Tuan, and Dinh Thi Tham Poong, as she became one of the first to bring Vietnamese art to the United States.
The collection was first seen by the British people in 2002. In recent years, Azran brought her collection to other countries, including Belgium, Germany, Israel, the US and Singapore.
Up to 113 galleries from the UK, Spain, Italy, the Netherlands, and the US showcased paintings, photos and sculptures at this year's four-day Affordable Art Fair, which closed yesterday.
Ancient pagoda traces in Ha Giang
The Institute of Archaeology and Ha Giang Province's Museum have uncovered remnants of the 600-year-old Nam Dau Pagoda in Nam Thanh Village, in Vi Xuyen district's Ngoc Linh Commune.
Although the major architecture of the pagoda is no longer intact, its vestige and relics bear significant historical and cultural values, greatly contributing to the study of history and culture of the Tran dynasty (1225-1400) in the locality, according to Dr Tran An Dung from the institute.
After two months of work, the excavation team discovered many remnants, such as pebbles, roofing tiles, earthenware statues of phoenixes or cranes, and dragon statues fixed on roofs.
Dung said many remnants had only been found in Thang Long Imperial Citadel or other essential royal structures.
The excavation team also found precious relics, proving the existence of another Tran dynasty's pagoda in Na Lach Village, Linh Ho Commune. The pagoda is assumed to be from the same era, though smaller than Nam Dau Pagoda.
New East Sea songs released
The Viet Nam Musicians' Association has released some 80 newly-written songs about seas and islands, the first volume of the collection entitled Day Song Bien Dong (Waves Rising in East Sea).
Association chairman Do Hong Quan said the group singled out the songs from more than 100 entries sent by musicians nationwide in response to a campaign to write works highlighting the nation's sovereignty over its seas and islands.
"The association continues receiving new compositions for future volumes and plans to release CDs," Quan said. "The songs represent the hearts of musicians towards the motherland, and contributing voices to defend the sovereignty over the seas and islands."
The first volume of the series features songs about Viet Nam's marine police, fishermen, submarine forces, naval, and air forces.
National writing contest to focus on marine police, soldiers
Professional and amateur writers under 40 years old at home and abroad are being encouraged to participate in a writing contest held by the HCM City Youth Union next week.
The contest focuses on the lives of marine police and soldiers, and their dreams and challenges. The organiser hopes the competition will unearth fresh talent, encourage interaction among writers, and enable the public to enjoy new works.
Submissions of high-quality work will be introduced to the public through print publications.
Those interested should send their work by post to the contest's organising board at 1A Pham Ngoc Thach Street, District 1, HCM City, or by email at [email protected] before October 20, and the prize winners will be announced in December.
Breeding season inspires local sculptor
Young sculptor Thai Nhat Minh will transform the Manzi Art Space into his own creative area with a solo show titled Breeding Season tomorrow.
Inspired by the breeding season, Minh aspires to portray the connection between sculpture and abstract notions of landscape, time and mentality through this series of experimental works.
In Breeding Season, the sculptures are installed in several locations, on tables and shelves, on walls, by themselves solo or in groups in different rooms. Table surfaces, blank walls, floors and even dark stair wells become bearers of artistic ideas.
The exhibit opens at 6.30pm and runs until July 13 at 14 Phan Huy Ich, Ha Noi.
San Art Laboratory takes applications for new residents
San Art Laboratory, Viet Nam's first studio residency programme for artistic experimentation, open discussion, personal development and network building, will choose three artists under 35 years old for Session 6 scheduled from November 15 to May 14 next year.
The participants will become full-time residents at San Art Laboratory, and will be provided with accommodations, a studio, production funds of US$1,000 and a small living allowance.
The residency period will conclude with a group exhibition and an artists' talk.
For more information on the programme, its application criteria and the required documents, contact San Art, 3 Me Linh Street, Binh Thanh District, HCM City. Email is [email protected] Applications will close on August 5.
Photo contest to capture climate change challenge
The Danish embassy has launched a photography contest designed to highlight the consequences of climate change.
Open to amateur and professional photographers aged between 18 and 35 years, the contest carries a prize money of US$2,500.
Contestants can submit their photos, monochrome or coloured, to the embassy from now until August 29.
Launching the contest, Danish Ambassador John Nielsen expressed his hope that it will help underline the increasing importance of climate change response and prove that each person can make a difference.
The entries will be judged by a panel comprising well-known Danish and Vietnamese photographers.
Ho Citadel residents to play part in preservation
People residing in the vicinity of the Citadel of the Ho dynasty in Thanh Hoa Province will be given cameras and taught photographic and filmmaking skills to create their own images depicting life around the World Heritage site.
The project, Building and Displaying in the Vicinity of the Ho Dynasty Citadel using Photovoice Methods, runs from June through the end of December. Using Photovoice, a technique of telling stories by displaying images, the project is also meant to raise the awareness of local people and encourage them to take an active part in preserving the country's cultural heritage.
Initially, eight households in Vinh Tien and Vinh Long communes in Vinh Loc District will benefit from the project, which is part of a large-scale project to revitalise World Heritage site museums in Cambodia, Laos and Viet Nam, jointly operated by UNESCO and the Japan Funds-in-Trust.
According to an official from UNESCO Viet Nam, the project, undertaken for the first time, seeks to study and learn about stories, thoughts and the hopes of local communities in relation to the conservation and preservation of heritage sites.
"The stories are expected to showcase their love of heritage, challenges, as well as opportunities in protecting and bringing into full play cultural heritage values of the Ho Dynasty Citadel," said Nguyen Duc Tang of the Ha Noi-based office of the UN cultural agency.
"This will help heritage managers better understand and incorporate with local residents, thus, constructing short-and long-term strategies to call for and enhance their responsibility towards these works."
Tang noted that the citadel is among a few heritage sites located within a living community. This is one of the important factors for shaping development and conservation models involving the community.
The Ho Dynasty Citadel was Viet Nam's capital under the Ho dynasty (1398-1407). Located in Vinh Loc District, the citadel measures 870m by 883m and was built in 1397. It is the only citadel in the country built entirely of stone and remained nearly intact throughout the nation's often turbulent history.
It was recognised as a World Cultural Heritage Site by UNESCO on June 27, 2011. According to experts the structure represents an outstanding example of a new style of construction for a Southeast Asian imperial city.
"Since it received the honour, the site has witnessed a considerable increase of visitors," said Tang. "And the citadel's Heritage Preservation Centre has developed numerous plans and strategies to effectively uphold its cultural, architectural and historical values."
However, a recent report revealed that local authorities and the site managers are facing several difficulties in the preservation process.
While the Law on Cultural Heritage and the site's management regulations stipulate that the core area must be strictly protected, some houses in the area have built, and even upgraded their homes.
"Cultivation within the protected area has affected underground architecture at the site. We've reported the situation to authorities several times, but the situation has yet to improve," the vice director of the citadel's Heritage Preservation Centre, Nguyen Xuan Toan, said.
"Giving cameras to the local people and letting them tell stories through images and cultural subjects will enable those living within the heritage site to express their emotions and feelings in their own way," said Toan.
"They are merely farmers who get used to fields and have never touched a camera. But they all adore and feel proud of the heritage and abroad. Such a love will help them to produce the most realistic photos and videos."
Student claims video award
Dang Dong Phuong, a student from the Cuu Long (Mekong) Delta province of Long An, has won the first prize in a short video competition.
The award for Phuong, which he won for the film Ton Toi Gia (Be Dreadful till the End of Life), was announced on Thursday along with the awards for seven other films which were selected from 20 shortlisted videos.
Jointly launched on April 21 by the Student newspaper, the contest was the initiative of the Delegation of the European Union to Viet Nam, as part of the "Europe Days 2014" programme in Viet Nam. It called on Vietnamese students to express their understanding and ideas on measures to save energy in daily life, through short creative videos.
Up to 600 short videos, produced by students from provinces and cities nationwide, were sent for the competition. Each video presents a different idea on the issue.
This proves the strong interest and enthusiasm that Vietnamese youth have in dealing with this important issue, according to European Union's first counsellor Delphine Malard
"Conserving energy is the best way to ensure a secure and sustainable energy supply and to reduce greenhouse gases emissions," said Malard
"Energy can be saved through many concrete measures that every one of us can take every day. The EU is determined to tackle climate change and ensure environment protection."
Pushkin's poems published
A Vietnamese-Russian collection of poems by Alexander Pushkin (1799-1837) has been published by the East-West Culture and Language Centre to mark 215th birthday of the great poet.
Translator, lecturer Vu The Khoi who has taught Russian for over 40 years compiled the bilingual book comprising 90 original poems in Russian and 163 translations of 37 top translators.
"Each poem going with several translations would help readers compare the translations with each other and understand more about the piece," said Khoi.
"I expect that the book will meet the demand of Pushkin poetry lovers and students of Russian language and literature."
Khoi released the first book of Pushkin poetry in 2007 comprising 52 poems and 93 translations.
Dance show to hold 3rd season auditions
The third season of Thu Thach Cung Buoc Nhay, the Vietnamese version of the US TV show So You Think You Can Dance, will hold auditions in eight cities across the country.
The contest is organised by Dong Tay Promotion and HCM City Television (HTV).
Professional and amateur dancers aged 16-30 are eligible for auditions in Bien Hoa on June 6, Da Lat on June 8, Nha Trang on June 15, Can Tho on June 23, Hai Phong on June 27, Ha Noi on June 29-30, Da Nang on July 6 and HCM City on July 13-14.
Nguyen Hai, project manager for Dong Tay Promotion, said: "The additional two audition sites of Bien Hoa and Da Lat will create more opportunities for good dancers from the southern and Tay Nguyen (Central Highlands) regions."
The judges include experienced local and overseas dancers and choreographers, including John Huy Tran, Tuyet Minh, Chi Anh, Viet Thanh and Viet Max.
They will choose the 100 best dancers to enter the semi-final round to be held in HCM City.
The organisers will seek dozens of dancers from national dance and aerobics competitions for the semi-final.
Hai said that they decided to look for contestants at professional dance competitions to improve the programme's quality.
Of the total of more than 100 contestants, the jury will select 20 finalists, including 10 male and 10 female dancers.
They will perform solo or in pairs in several dance genres, including ballroom, ballet, contemporary, Broadway, jazz, salsa, jive and hip-hop during 12 shows to be broadcast live every Saturday on HTV7 from October 18 to January 3.
The winner will receive VND400 million (US$19,000).
The auditions and semi-final round will be broadcast on September 6, and the remainder of the contest will be shown every Saturday.
Contestants can register at Dong Tay Promotion at 200 Pasteur Street in District 3, or at the website www.soyouthinkyoucandance.vn, or at audition sites.
Southeast Asian nations promote culture in Canada
A culture-tourism festival for Vietnam, Indonesia and Myanmar was held in Ottawa, Canada on June 14, capturing the attention of Canadian and international friends.
The festival included a diverse range of activities, such as cultural exchanges, information sharing and a culinary introduction all of which took place in the spirit of solidarity.
Hundreds of visitors attended the event and immersed themselves in the culture of Southeast Asia. They enjoyed traditional foods like friend spring rolls and fried rice from the three Southeast Asian countries, as well as art performances and updated information on trade, investment and tourism.
This festival gave Canadian and international friends an opportunity to discover and learn more about the unique cultures of Southeast Asia.
Promoting Quang Nam folklore in Japan
The central province of Quang Nam will promote its special cultural identities at the 12th Hoi An-Japan Cultural Exchange in Japan's Sakai City of Osaka prefecture on October 18-19.
Hoi An, an ancient town recognized by UNESCO as a World Cultural Heritage site, will send around 40 representatives to introduce Vietnam's land and people and cooperation achievements between the two countries.
Special cultural identities, such as Quang Nam folklore, traditional music, classical drama, traditional games, and cuisines, will also be on display.
This is the first time the event will be held in Japan, instead of Hoi An as in 11 previous years.
The programme will be co-organised by the Japan-Vietnam Friendship Association and the Sakai International Exchange Association.
Hoi An will also attend Vietnam Cultural Day in Nagasaki, Japan, on June 25.
Hanoi hosts Korean fashion exhibition "Four Seasons"
An exhibition on evening gowns designed by Shin Hye Kyung is set for staging at the Korean Cultural Centre in Vietnam from June 11-17.
On display are 11 collections of evening gowns, mostly wedding dresses, illustrating the beauty of the four seasons in the RoK.
Besides, the young Korean wedding dress designer introduces designs combined with common materials used for Hanbok – the traditional costume of the RoK.
Shin Hye Kyung graduated from Dongdeok University. During 2007-2013, she worked as a CEO of Korean girls' costumes shopping webpage. Since 2013, she has been the CEO of Susanne – a famous fashion brand in the RoK.
Film on Alexandre Yersin screened in Vietnam
A film documenting the life of Alexandre Yersin, a physician and bacteriologist well-known throughout the world, was shown in Hanoi and Ho Chi Minh City on June 12-13.
According to the Swiss Embassy in Hanoi, the film screening is part of activities to celebrate 120 years of the discovery of the bacillus responsible for the bubonic plague.
The film was released for the first time at Hanoi National University on the evening of June 12.
Before the screening, the audience will have a chance to exchange with four famous Vietnamese scientists including Prof. Nguyen Tran Hien, Director of the National Institute of Hygiene and Epidemiology, Prof. Le Gia Vinh, Vice President of Vietnam Medical Association, Prof. Dau Ngoc Hao, Chairman of the Vietnam Animal Health, and Prof. Nguyen Lan Dung, Chairman of the Vietnam General Biology Association.
The scientists, who represent Yersin's four research areas of bacteriology, general medicine, veterinary, and botany, will present the most attractive factors and challenges in the areas they studied.
Born in 1863 in Switzerland, Yersin studied medicine in France. He is also notably remembered as the creator of vaccines for the prevention and treatment of a number of diseases.
He came to Vietnam in 1891 and chose Nha Trang city for living and working until he passed away on March 1, 1943.
Ancient Da Nang tree receives cultural recognition
An 800-year old banyan tree in the central city of Da Nang has been recognised as the city's first heritage tree.
The Vietnam Association for Conservation of Nature and Environment (VACNE) on June 8 held a ceremony to present certification to leaders of the municipal People's Committee.
Located in the Son Tra Natural Preservation Zone in Son Tra district, the 22-metre tree is now home to a population of brown-shanked langur, an Indochinese endemic primate in the locality.
The banyan tree played an important position in the early 19 th century, as kings of the Nguyen Dynasty built an observation point on its branches. It also served as a shelter for the country's soldiers during the two resistance wars.
The heritage recognition will aid the conservation of the tree and promote the city's cultural heritage value.
The VACNE launched the programme to conserve Vietnam Heritage Trees in 2011. To be recognised, wild trees must be at least 200 years old, while planted ones must be aged at least 100.
Moreover, the trees should be connected with the historical and cultural characteristics of the area where they stand.
Nearly 500 Vietnam Heritage Trees have been recognised so far.
Daily life of ethnic minority children featured in Germany
A collage of 100 photographs celebrating the life of Vietnamese children in rural Xuan Son commune, Tho Xuan district is on display in Ransbach – Baumbach city, Germany.
The collection features the best of over 10,000 photos taken by children aged 9-15 of the commune of the rustic landscape, their family members, neighbours, and even strangers who they meet in their everyday life in late 2013.
These photographs themed "My Day" provide the curious an interesting introspective view of everyday life of different Vietnamese ethnic groups through children's eyes. The collection also includes 50 works taken by photographer Vu Thi Bich Hong and several other Vietnamese photographers.
Presiding over the exhibition, the Mayor of Ransbach – Baumbach city commended Bich Hong for her creative idea and tireless efforts in completing the collection despite numerous difficulties.
He also revealed an upcoming visit to Vietnam together with a German saxophonist to support the 'My Day' project.
The exhibition is now travelling to primary, secondary and high schools and universities across the country.
HCMC launches cultural heritage photography contest
Museum of Ho Chi Minh City collaborated with the Ho Chi Minh City Cultural Heritage Association kicked off a press conference to launch the first Ho Chi Minh City cultural heritage photo contest on June 12.
The event marks Vietnam Cultural Heritage Day on November 23 and the 40th anniversary of Reunification Day on April 30,2015.
The professional, amateur or foreign photographers can participate in the photo contest. All entries participate in the contest, which are photos about cultural heritage of Ho Chi Minh City, including material cultural heritage are historical monuments, landscapes, relics, antiques; and intangible cultural heritage are traditional festivals, national costumes, folk performances, habits and customs.
Send the photos to Ho Chi Minh City Museum, No. 114, Nam Ky Khoi Nghia Street, District 1, Ho Chi Minh City from June 13 to October 20.
The awards ceremony will take place at the end of November.
Short-film competition launched for children
A short-film making competition for children themed "My dream" has been launched by the Embassy of Japan in Vietnam.
Contestants are junior and senior high school students who will make a three minutes film conveying their thoughts and aspirations of life.
Entries must be subtitled in Japanese or Vietnamese and accompanied with a summary of the script in any of the above languages on an A4 size paper. Each group will have a maximum participation of three students.
Submissions can be sent to the High School Education Unit under the Ho Chi Minh City Department of Education and Training by August 2.
Hanoi to host national ca tru festival in August
The 2014 National ca tru Festival is scheduled to take place in Hanoi this August, attracting the participation various ca tru clubs from 15 localities across the nation.
The event is being organised by the Vietnamese Institute for Musicology in co-operation with the local departments of Culture, Sports and Tourism of 15 localities with a tradition of ca tru.
The festival is intended to propagate and promote ca tru conservation outcomes during the 2010-2014 period. It also connects the heritage value of the arts to the public and encourages young ca tru artists to strengthen their efforts to preserve the nation's cultural heritage.
Ca tru, an ancient type of music featuring female vocalists, was recognised by UNESCO as an Intangible Cultural Heritage in Need of Urgent Safeguarding in October 2009. It is a complex form of poetry founded in the north of Vietnam around the 15th century using lyrics written in traditional Vietnamese poetic forms.
Since the first national festival held in Ha Tinh in 2005, the cultural sector has organised four editions of the event.
This year's festival should also help authorities assess ca tru preservation results, confirming that the traditional heritage has overcome the situation of being 'in need of urgent protection' and proposing that UNESCO move ca tru from the list of world intangible cultural heritages in need of urgent safeguarding to the Representative List of the Intangible Cultural Heritage of Humanity.
Each unit participating in the festival will build and perform their singing with a maximum duration of 30 minutes. In addition to the tradition styles of ca tru, artists are encouraged to perform in classic singing styles including Hat Mo (singing to open the door), Thet Nhac (singing), Gui Thu (mailing) and Ngam Tho Co Dau (singing poetry). Newly restored singing styles are also encouraged at the festival.
VNS/VNA/SGT/ND/SGGP/VNN
Vietnamese poet nominated for prestigious Pen Award have 4008 words, post on at June 16, 2014. This is cached page on Movie News. If you want remove this page, please contact us.