Journalists for the Los Angeles legal newspaper Daily Journal write today about a tabloid reporter in the early 1990s surreptitiously taping Anthony Pellicano — bugging the bugger, according to LAObserved — while the PI fed, watered and overall negotiated with the night-crawlers of the news biz. (Actually, that was reported extensively two years ago by local TV news station KCBS and its then reporter Drew Griffin, who used the news break to leap to CNN.)
But the Daily Journal claims today that the recorded conversations with Pellicano suggest lawyer Bert Fields didn't know about the PI's methods. I, too, was shown some tape transcripts back in 2004 pertaining to this. When I couldn't hear the recordings themselves — none of the 250 microcassettes were made available to me but they were to KCBS's Griffin — I didn't feel comfortable going with the story. At the time, I believed and still do that drawing any such a conclusion one way or the other re Fields/Pellicano from the oblique references on the tape was, and is, too big a leap to make. The tapes' owner just phoned me now to confirm that the FBI had demanded that tape and 69 pages of transcripts.
From what I read from the tapes, I thought back to Clifford Odets, the screenwriter of that extraordinarily prescient film The Sweet Smell of Success , and the opening scene when his cur columnist J.J. Hunsecker says archly, "I love this dirty town." Deceased James Mitteager, a former New York City cop turned freelance writer turned Los Angeles bureau chief of the Globe and also a vet of the National Enquirer , made many of his tapes in the early and mid 1990s, during the beginning of the tabloidization of mainstream media . Think Michael Jackson's first run-in with the law, and the OJ Simpson murder case. When Mitteager died of throat cancer, the tapes were left to his wife, who then gave them to her husband's favorite tipster, Paul Barressi, the adult film producer and occasional leg man for Pellicano. Barressi made a deal with KCBS to air them in 2004. At that time, Bonnie Fuller, the editorial director of tabloid publisher American Media — National Enquirer , Globe , Star , Bonnie — was voted the No. 1 "media icon" in a major online poll, beating out 94 crème de la crème candidates for having the most impact on the industry. The TV networks were adopting tabloid tactics, even paying for Michael Jackson news interviews. Doing so wasn't just acceptable; it was then even admirable.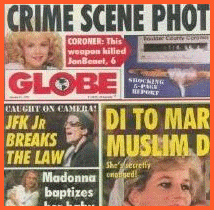 For years, conventional wisdom had it that the tabloid tipsters were everyday nobodies with regular star access, call it close encounters of the celebrity kind — hairdressers and manicurists, secretaries and personal trainers, nurses and orderlies, room service waiters and one-night stands. Wow, were we wrong! According to the hundreds of hours of tape-recorded conversations by Mitteager, some of which I reviewed, the sources on these stories reached all the way to the top teams assembled by the talent via Pellicano — to Hollywood's upper echelon law firms, publicity companies, lawyers, agents, managers, doctors, publicists. Most had at the very least a moral duty and sometimes even a fiduciary and legal responsibility to protect the very celebrities they were tattling on. The evidence was there that many of these Hollywood players were, in essence, double-agents, none more so than Pellicano: they signed the stars, promised to protect them, gave information to the tabloids, then promised to protect them from the information in the tabloids, in what can only be called a vicious cycle. Pellicano in many cases was acting as a triple agent – giving information to the tabloids, then pressing the reporters to reveal the identities of other sources so he could track down those sources and reveal them to the stars' reps for pursuit. Oh the hypocrisy: officially, in their offices, they would say "no comment" to the tabs, then, 15 minutes later, get back on the phone with the reporter from a public phone booth down the street. And the only word to use is disgusting to describe area hospitals which leaked like sieves. There were doctors spilling secrets, negotiating fees like $5,000, $10,000, even $20,000, to tell all. (This isn't new to me. I remember talking casually to one of the top dermatologists in town and was shocked when he began telling me all about a famous actor's basal skin cancers. Another time, I recoiled when a top publicist launched into a detailed discussion of a superstar's tubal pregnancy.)
All of the above were juicy revelations, which is why, in 2004, KCBS aired a special assignment series "The Reel Source", by their veteran investigative reporter Drew Griffin during sweeps period, sandwiched between a low-carb diet feature and a rat-infested restaurant probe. (Dontcha just love local TV news?) After 10 years with KCBS, Griffin in May 2004 moved to CNN as a correspondent for its investigative unit.
Old, Old News: Pellicano/Tabloids have 1041 words, post on deadline.com at March 14, 2006. This is cached page on Movie News. If you want remove this page, please contact us.